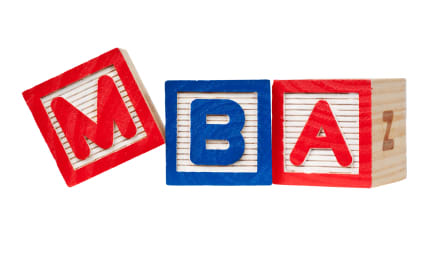 The Master of Business Administration (MBA) degree is a prestigious business degree that opens you up to endless career opportunities. When choosing your schooling options, your two main options are attending a college or university, or utilizing distance learning through an online MBA course. The benefits of earning your MBA online include having the freedom to study when you want, working at your own pace and being able to earn the degree from anywhere. It is important that you do your research and be sure you have chosen the best possible school when getting an MBA online. Here are the top 10 ways for picking your online MBA school.
1. Accreditation
One of the most important considerations is the accreditation. This includes the school being accredited as well as the coursework. Accreditation is completed by International organizations and shows that the school abides by all important guidelines, and the MBA program is of the highest quality, with outstanding education. When you choose an MBA school that is accredited, you know you're getting optimal education in business, finance, accounting and other courses. You want to find a school that is accredited by the Association to Advance Collegiate Schools of Business, or AACSB International. Because it is so easy to fake an online college, this is vital.
2. Coursework and Curriculum
Next, look at the MBA curriculum of your chosen school. You should already have a list of required classes for the standard MBA, depending on which you choose. Now that you know what courses are required, you should take a look at the curriculum for the school and make sure it is relevant. This isn't usually an issue if you made sure the program and school is accredited, but it helps to find out exactly what you will be learning.
3. Cost and Value
MBA degree programs online aren't cheap, but the cost isn't your only concern. Finding out how much the entire program and learning materials costs is important, but also compare the cost to the value of the program. Just because you have found an accredited MBA program that is cheaper than the rest, doesn't mean it is the right option. Likewise, the most expensive MBA program isn't necessarily the best either. It is important to understand exactly what the costs are for tuition, books and additional school fees.
4. Financing Options
If you need help paying for your college education, find an MBA school that accepts outside financing, such as school loans, grants or scholarships. Some online schools even have their own grants or scholarships for selected students, so this is another option to consider. When looking for grants or scholarships for online MBA degree programs, see if they have a list of recommended schools.
5. Course Delivery
Now that you have the most important matters settled, your list of schools to consider is getting smaller. So it is now the time to start looking at the details. The way the course is delivered might be important to you. Would you rather them assign books for you to purchase, or do you want everything to be digital and learned online? What kind of interaction do your online professors have with students? These are things to find out.
6. Career Placement
Many online schools offering MBA programs also provide some sort of career placement resources. This is a good bonus that helps you to narrow down your search. If you don't already have an idea of where to work after obtaining your MBA, you might find an online school that offers their graduates career placement, resume preparation or tips for finding a job after you finish your education.
7. Academic Support
Aside from support in finding a career, academic support at the online school is very important. It is a little more difficult getting support with your courses when they're online, but the school should still offer endless support. Make sure they have staff available to answer your questions or issues, whether it's a technical issue or you're having trouble with a particular section of the curriculum.
8. Ask Recruiters
Speaking to recruiters of MBAs is another option for finding a good online school. Recruiters are responsible for finding candidates for various positions. The top firms in the world hire recruiters to assist them hire new employees. Find a recruiter who deals specifically with MBA-type positions, and ask if there are certain schools they favor, or others they don't particularly like to see on resumes. If you are thinking about an online school that the recruiter deems lacking in quality, it is a good reason to consider another school on your list.
9. Reviews
Speaking to current or previous students of the online MBA school is a great way to find out details about the school. They tend to be more honest and upfront with you, so you're going to get a good list of benefits and drawbacks. Don't let reviews be your final choice, but take them into consideration and help you if you're stuck between two or three MBA schools.
10. Graduates and Careers
Finally, ask recent MBA graduates of the online school what they're doing professionally and well they feel their MBA from that school helped them in their current job. Find out what job they have and if there were issues by recruiters or hiring managers in hiring them after attending that particular MBA school. Social media networking sites are a great way to find graduates, such as through LinkedIn.
MBA programs involve extensive education and several years of schooling. After the costs, time and energy spent on the program, it is worth it to take your time and research each school and MBA program thoroughly. Just because you have read a few bad reviews, doesn't mean that school doesn't provide quality education. Follow all 10 steps to learn more about the school and weigh the pros and cons. Consider your preferences and set priorities for what is most important to you in an MBA program.